Get Guaranteed Pest Control in Morris County
What kind of problem are you having? Select all that apply.
Pest Control in Morris County
Sharing your home with unwanted pests can be incredibly stressful and often dangerous. The experienced team at Delsea Termite & Pest Control can help you reclaim your home from these unwanted invaders. We offer fast response times and use state-of-the-art products that are guaranteed to give you results—there isn't a better option for pest control in Morris County!
Our pest control services include:
Thorough inspections to identify the type of pests in your home.
Targeted treatments to remove all traces of the infestation.
Regular preventive services to keep new pests away.
Satisfaction guarantees that include free re-treatments if needed.
Areas We Service in Morris County
Image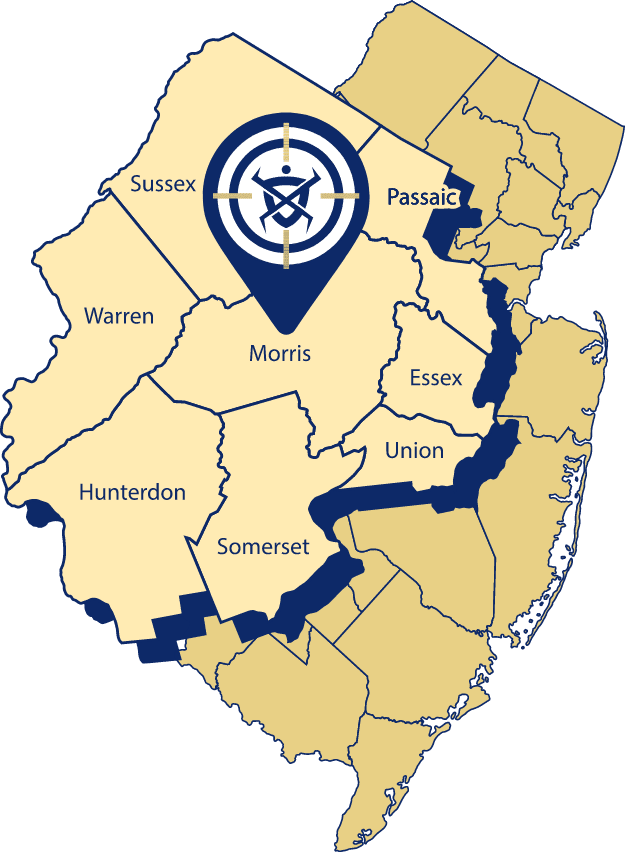 Termite Treatment in Morris County
We understand the stress and frustration of discovering termites in your home, which is why our termite control in Morris County is designed to be a safe and effective solution. Our team will thoroughly inspect your property for signs of activity and create a customized treatment plan based on the severity of the infestation.
Our certified team of experts will install Sentricon bait stations around your home to create a protective barrier and treat with Termidor to eliminate termites upon contact, as well as ingestion. Following the treatment, we will schedule annual inspections to ensure that your home stays termite-free. 
Signs of a Termite Infestation
Termites often remain hidden beneath the surface, making them difficult to detect. However, there are a few signs that can help you determine if your home is infested with termites:
Seeing flying termite swarms around windows or doors.
Discovering mud tubes along foundation walls or other areas where soil meets wood.
Wooden structures begin to look damaged or hollow.
Small piles of sawdust near wooden furniture, window frames, etc.
If you suspect that your home has been overrun with termites, it is important to act quickly. Our team of experienced professionals can help you get rid of the infestation before it causes costly damage to your home.
Bed Bug Treatment in Morris County
Delsea Pest Control can help make sure the job is done right. Our team of experts understands how to effectively eliminate bed bugs and will use only highly-tested and effective treatments to make sure your home stays free from these pests for good. We'll inspect your home, treat any areas necessary, and offer tips on how to prevent them from returning. Don't wait any longer—contact us today for fast, reliable bed bug treatment in Morris County.
We offer two treatment options:
Liquid treatments involve spraying baseboards, closets, and entryways in rooms that won't be heat treated. This precaution also helps to stop bed bugs from traveling to other rooms.
Heat treatment is another option for eliminating bed bugs in all life stages. We use specialized heaters to raise the temperature of your home past 113 degrees Fahrenheit. This is hot enough to kill bed bugs and other pests throughout your home, ensuring that your home is free of an infestation.
Family Owned & Operated Pest Control Company
We are a family-owned and operated pest control company, proudly serving Morris County and the surrounding areas. Our team of experienced professionals can help you eliminate bed bugs quickly and affordably. We understand the stress that comes along with an infestation, which is why we strive to provide fast service and reliable results.
Mosquito & Tick Control in Morris County
Mosquitoes and ticks are two of the most common pests in Morris County. Mosquitoes can spread diseases like West Nile Virus, while ticks can carry Lyme Disease. These diseases come with side effects that would affect your day-to-day life.
With our mosquito and tick prevention services, you can enjoy your outdoor space without the fear of being bitten or getting sick. Our services include:
A free home inspection by a local exterminator.
Maximum coverage pest treatments using a backpack sprayer.
Five treatments throughout the mosquito season.
A two-in-one treatment for ticks and mosquitoes.
An 80% reduction in the mosquito population.
Satisfaction Guaranteed
At Delsea Pest Control, we are dedicated to providing our customers with the best protection and prevention services. We strive to keep your family safe from mosquitoes and ticks while also helping you enjoy outdoor activities with peace of mind. If pests return after your service, we will retreat your property for free.
Rodent Control in Morris County
Did you know 20% of undetermined house fires are attributed to rodents? Rodents chew through electrical wires and gas lines, creating an unsafe environment in your home. That's why it's important to hire a professional rodent control company like Delsea Pest Control in Morris County.
Our rodent removal services include:
Inspecting your home for entry points and assessing your infestation.
Monitoring any bait stations to make sure the rodents are gone for good.
Performing recurring services for year-round pest control protection.
Treating the perimeter of your home, focusing on entranceways and windows.
And more!