Get Guaranteed Pest Control in Morristown
What kind of problem are you having? Select all that apply.
Pest Control in Morristown
When you find pests creeping around your home, it's normal to want them gone as soon as possible. While at-home treatments may seem like a quick fix, they only provide short-term relief and can even make some problems worse. To get rid of pests at their source, trust our pest control in Morristown.
Our licensed technicians treat for a variety of pests, including:
Our Pest-Free Guarantee
Your family's health and safety is our top priority, and we're always willing to go the extra mile. That includes offering guaranteed pest control in Morris County. If pests persist after treatment, or if you're unhappy for any reason, let us know and we'll work hard to make things right. That includes re-treating at no additional cost! 
Image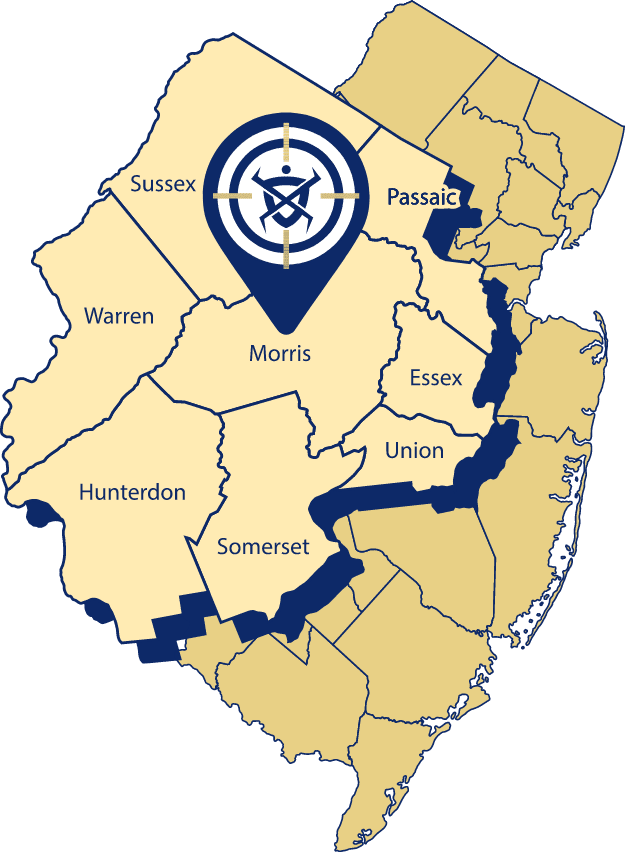 Custom Treatment for the Best Results
Our pest control in Morristown starts with a thorough inspection. This allows us to understand where pests are hiding and how they're getting inside. We pay special attention to entryways, windows, and the exterior foundation. Using our findings, we can create a custom treatment plan that's guaranteed to give you results.
When you partner with Delsea, our exterminators will:
Eliminate pests

with Integrated Pest Management techniques.

Treat with a combination of gels, baits, and spot treatments

as needed.

Share our inspection findings and keep you updated throughout treatment.

Schedule recurring pest control visits

to prevent future infestations.
Rodent Control in Morristown
Rats and mice can make you feel uncomfortable in your own home, not to mention put you in danger. These pests carry diseases like hantavirus and leptospirosis. These diseases can be spread through a bite or scratch. Rodents increase your risk of an electrical fire by chewing on wires and gas lines. Instead of trusting ineffective store-bought products, trust our rodent control in Morristown. We take the time to understand your property's unique needs before creating a treatment plan to eliminate rodents at their source.
Our rodent removal includes:
A free inspection

to search for potential entry points.

Bait stations

to remove rats and mice that are currently in your home.

Ongoing monitoring

for long-term protection with our Classic Plan.

Three monthly follow-ups

after one-time treatments.

Guaranteed results

for your peace of mind.
Termite Control in Morristown
Welcome to Delsea Termite & Pest Control, your trusted termite exterminator in Morristown. Our family-and-pet-friendly termite treatments are tailored to the layout of your property and the severity of your infestation. With over 100 years of experience, we know how to get rid of termites for good.
Here's what you can expect from our termite control service:
Comprehensive termite inspections to uncover any damage or activity
Ongoing termite control to ensure your home stays termite-free
Monitoring to catch any potential infestations early
Prevention strategies to protect your home from future termite problems
Morristown's humid climate creates a perfect environment for termites to thrive. That's why working with a company that understands local termite behavior is important.
At Delsea Termite & Pest Control, we use the latest technology and scientifically-proven methods to eliminate termites. Our Sentricon system creates a protective barrier around your home without drilling or digging. And our Termidor solution is highly effective, eliminating all existing termites within three months.
Mosquito & Tick Control in Morristown
Get rid of pesky mosquitoes and dangerous ticks with our superior mosquito and tick control services in Morristown, NJ. Our expert technicians provide the following:
A comprehensive solution that includes a free inspection.
Targeted liquid sprays.
Larvicides to reduce mosquito populations and prevent tick-borne diseases.
Benefits of our service:
Effective mosquito control in Morristown with an 80% reduction in population
Five treatments from April to September for complete mosquito prevention
Treatment of tick hotspots to ensure ultimate tick control
Highly trained technicians who identify mosquito breeding areas and use backpack sprayers to create a protective bubble around your home
Fast response times and excellent customer service from a locally-owned company that cares about our community
Morristown's climate and geography make it a breeding ground for mosquitoes and ticks. Don't let these pests take over your summer! Trust in our expertise to keep your loved ones safe and your outdoor space enjoyable.