Get Guaranteed Pest Control in Rockaway
What kind of problem are you having? Select all that apply.
Pest Control in Rockaway
Here at Delsea, we understand that a pest infestation isn't just inconvenient, it is an invasion of your personal space and peace of mind. As a family-owned business, we prioritize our clients to provide quality, personalized pest control. Our team of experienced technicians are equipped to use the most up-to-date pest control technologies and best practices on:
Ants

Roaches

Stinging Insects

Spiders

Fleas & Ticks

Rodents

And many more!
A Pest-Free Home Guaranteed
At Delsea Termite & Pest Control, we treat every client with respect. When you partner with Delsea, you're trusting our family with yours, and we take that seriously. We offer a satisfaction guarantee on all of our pest services in Morris County. If you're unsatisfied with our service, you can count on us to make things right. You deserve the peace of mind that comes with a pest-free home.
Image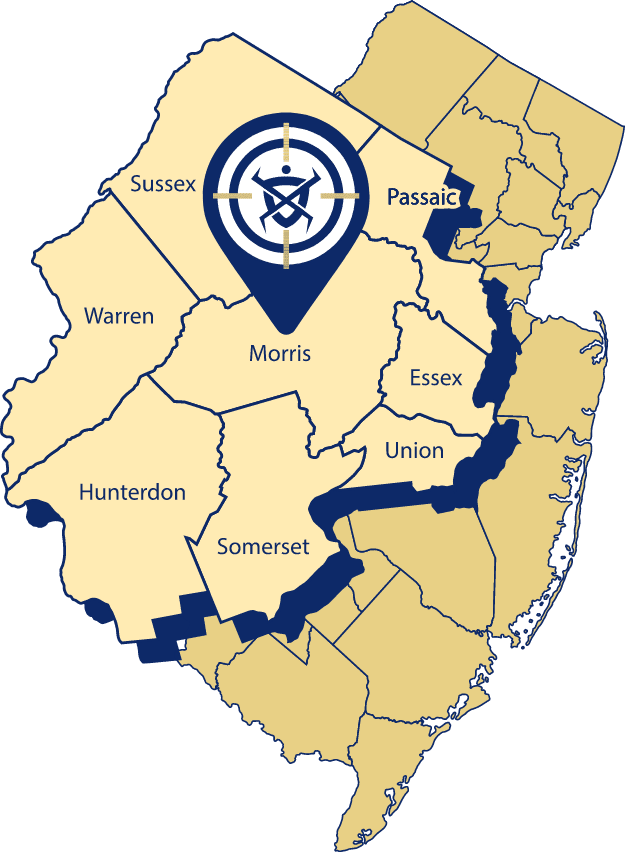 Customized Professional Pest Control Service
All of our pest control services start with a complete inspection so that we can determine the best course of treatment. No pest control solution is one-size-fits-all, so we offer a variety of service plans. We're here for you whether you need us for a one-time treatment or on an ongoing basis. 
When you trust us with a pest problem in Rockaway, you can expect:
A thorough inspection of your home and property

so that no pest will go unnoticed

Integrated pest control methods

that both get rid of pests and keep them from returning

A

combination of treatments

like baits, gels, and spot treatments as needed

Transparent communication

so that you're up-to-date every step of the way

A schedule for

recurring services

according to your needs
Mosquito & Tick Control in Rockaway
Rockaway is a great place to live in New Jersey, but unfortunately this location isn't immune to the influx of mosquitoes that accompany the spring and summer months. The infiltration of mosquitos brings uncomfortable bites and diseases. In the same seasons, ticks make themselves comfortable in your yard, and even on your pets. At Delsea, we're prepared to handle both of these parasitic pests at once so that you can reclaim your outdoor space.
With our mosquito and tick control program, you'll receive:
Five services from April through September from our rigorously-trained, friendly technicians.
High-coverage spray treatments with gas and electric powered backpack sprayers. 
Preventative treatment options for the off-season, depending on your needs. 
Transparent customer service and open communication from our family to yours.
Our mosquito and tick control treatments are designed for 80% reduction so that you can count on a safer home and yard for the whole family.
Rodent Control in Rockaway
If you're finding droppings, hearing scratching, or seeing gnaw marks on food packaging, chances are you have a rodent infestation. But don't panic! Our rodent control in Rockaway makes relief easy. We install bait stations around your home, placing them out of reach from kids and pets, to eliminate existing rats and mice. Then, we'll come back to check on things and make sure our treatments are working. Once our rodent control experts are done, you can feel confident that you won't have to worry about finding unwanted pests in your home again.
When you partner with us for rodent removal, we will:
Complete a free inspection

to assess the severity of the infestation.

Eliminate all the rodents in your home using

highly-effective bait stations.

Schedule quarterly service calls to ensure your home stays protected.

Perform

three follow-up visits

after one-time treatments.

Back our services with a

satisfaction guarantee,

including free re-treatments.
Termite Control in Rockaway
Are you tired of constantly battling termite infestations in your Rockaway home? Look no further than Delsea Termite & Pest Control, your go-to termite exterminator in Rockaway with over 100 of experience. We offer comprehensive termite control services that are family-and-pet-friendly, including:
Tailored treatment plans based on your property's layout and the severity of the infestation
Sentricon system installation to discreetly eliminate existing colonies and monitor future problems
Termidor treatment for complete eradication of all existing termites
Annual inspections to ensure termites haven't made a comeback
With Rockaway's humid climate, ongoing termite monitoring is essential to maintain a termite-free home. Our expert technicians are rigorously trained to handle any infestation and use state-of-the-art treatment methods to ensure we get the job done right the first time.
Don't spend another day worrying about termite damage. Contact us today to get rid of termites for good with our comprehensive termite control service.
Bed Bug Control in Rockaway
Are you tired of sharing your bed with unwanted guests? Say goodbye to bed bugs for good with our bed bug control service in Rockaway. Our family-friendly approach ensures your home is completely bed bug-free so you can sleep soundly. Here's what you can expect when you partner with us:
Same-day bed bug inspection: We'll inspect your home to determine the extent of the infestation so we can create a custom treatment plan.
High-intensity heat treatment: Our specialized heaters and fans raise the temperature in your home to eliminate bed bugs of all life stages, including eggs.
Family-friendly bed bug treatments: We use preventative chemical treatments in non-heat-treated areas to stop bed bugs from escaping and moving to uninfected areas.
3-month warranty: We stand behind our services with a 3-month warranty. If bed bugs come back, we'll return and re-treat for free.
Trust our experienced bed bug exterminator in Rockaway to get rid of bed bugs in your home. Take back control and sleep tight, knowing your home is bed bug-free. Don't let bed bugs disrupt your sleep schedule any longer. Contact us today to schedule your same-day inspection.